Helmut Veith Stipend: Announcement
It is our pleasure to announce Alina Ehart as the seventh recipient of the Helmut Veith Stipend for Female Master's Students in Computer Science, submission period November 2022.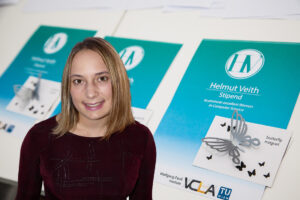 Alina has a Bachelor's degree in Applied Computer Science with a focus on cyber security from Alpen-Adria-Universität Klagenfurt. Due to her previous studies of information technology at HTBLuVA Villach with a focus on network technologies, Alina was credited some classes and was thus able to complete her Bachelor studies in only five semesters. Her Bachelor thesis "Machine-Learning-supported User Entity Behaviour Analysis" focused on improving User Entity Behavior Analysis for enhanced cybersecurity by leveraging machine learning models. The primary objective was to develop individualized anomaly detection models for each user, utilizing their training data in form log files. These models were subsequently tested and evaluated against anomalies identified by a company's proprietary software.
Having grown up in the Austrian province Carinthia, Alina financed her studies with seasonal work as a skiing and snowboarding instructor in the winter and as a kid's climbing instructor and retail worker in the summer. Her research interests are media engineering, human-computer interaction, and cyber security. Alina is currently enrolled in the Master's program Media and Human-Centered Computing at TU Wien and has expressed interest to work on autonomous driving in order to make road traffic safer for everyone.
Helmut Veith Stipend
The Helmut Veith Stipend is awarded annually to motivated female students in the field of computer science who pursue (or plan to pursue) one of the master's programs in Computer Science at TU Wien taught in English.
The recipients of the Helmut Veith Stipend receive a grant of 6000 EUR annually for a duration of up to two years and a waiver of all tuition fees at TU Wien. The annually awarded scholarship is funded by TU Wien, the Wolfgang Pauli Institute, and by the Friends and Family of the late Helmut Veith.
The Helmut Veith Stipend is dedicated to the memory of an outstanding computer scientist who worked in the fields of logic in computer science, computer-aided verification, software engineering, and computer security. Helmut Veith, who tragically passed away in March 2016, was a strong advocate and mentor for women in computer science.
Find out more about the Helmut Veith Stipend. (Annual deadline is November 30).
The list of the recipients of the Helmut Veith Stipend is to be found here.