Spouseware and Stalkerware – LogicLounge with Eva Galperin
Eva Galperin, director of cybersecurity at Electronic Frontier Foundation, at the LogicLounge in New York.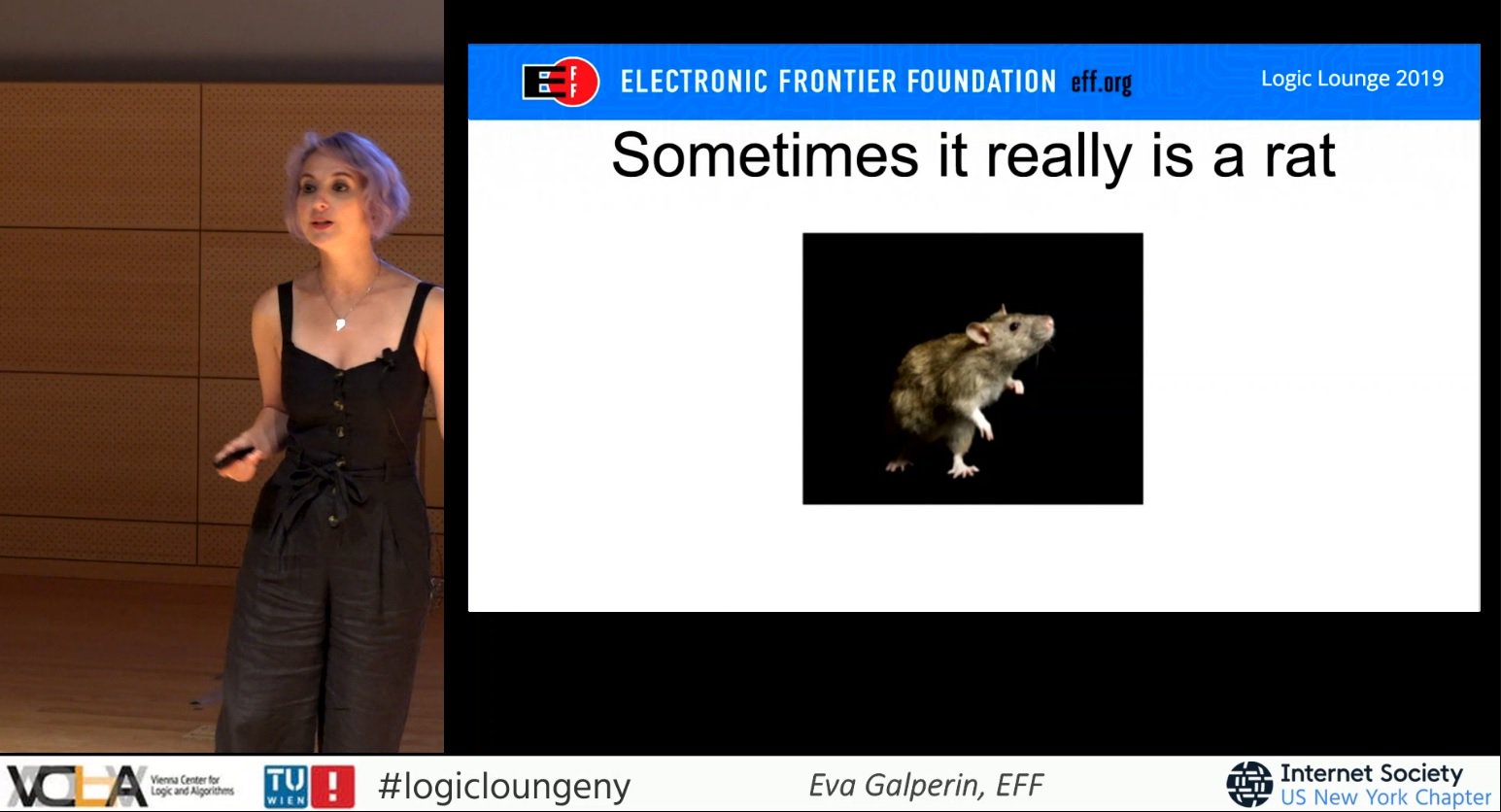 After Oxford and Vienna, the LogicLounge in New York on July 15, has been already the 15th in the series of LogicLounges, which feature discussions between the public and the eminent scientists in the fields of logic, philosophy, mathematics, computer science, and artificial intelligence. The LogicLounge with Eva Galperin was hosted by the 31st International Conference on Computer-Aided Verification (CAV) and organized by Daniel Schwartz-Narbonne, Amazon cybersecurity, in collaboration with the Vienna Center for Logic and Algorithms at TU Wien (VCLA). The event was supported by the Internet Society – The New York Chapter, which also provided a Livestream and recording of the Galperin´s talk here.
Eva Galperin, director of cybersecurity at the Electronic Frontier Foundation, has at the New York edition of our LogicLounge series of public debates, addressed the concerns surrounding the usage of powerful surveillance software for everyday usage. Such apps can tune in our calls, text messages, real-time GPS location or encrypted messaging apps like WhatsApp. These capabilities can afford dramatic powers and control over an individual's everyday life. Surveillance apps for private purposes are routinely linked to identity theft, physical injuries, sexual harassment, extortion and child abuse, among others. Some are marketed as ways for employers to monitor the movements of their workers, or for parents to check electronically on the whereabouts of their children. Others promise to help you to reveal infidelity. However, malicious software with an aim to monitor and control a targeted person is being also sold to the governments. Eva Galperin provided advice on how the tech community, the police, and the policymakers can address the issue of deployment of software used for surveillance by individuals. In addition to providing examples of existing legal norms that can be used to tackle the issue at hand, she also demonstrated what can individuals do to safeguard themselves against an attack.
Eva Galperin is a director of Cybersecurity at Electronic Frontier Foundation (EFF) and the head of EFF's Threat Lab. Eva Galperin has worked in security and IT in Silicon Valley and earned degrees in Political Science and International Relations. Her work is primarily focused on providing privacy and security for vulnerable populations around the world. To that end, she has applied the combination of her political science and technical background to writing privacy and security training materials and publishing research on malware in Syria, Vietnam, Kazakhstan, and Lebanon.
This was an admission-free event with a registration on Eventbrite here.
Livestream and Recording
This LogicLounge was supported by the Internet Society – The New York Chapter, which has also provided a Livestream of the event as well as the recording available on Facebook or on our YouTube channel, as well as on the streaming site of the ISOC.

#LogicLoungeNY
COPYRIGHT: LogicLounge with Eva Galperin, by CAV 2019 / VCLA at TU Wien (CC BY-NC-SA)
Past Editions
The LogicLounge series was initiated at the Vienna Summer of Logic in 2014, by the late VCLA co-chair Helmut Veith (1971-2016), and Oliver Lehmann. More information on the series and for the recordings of past talks please click here.